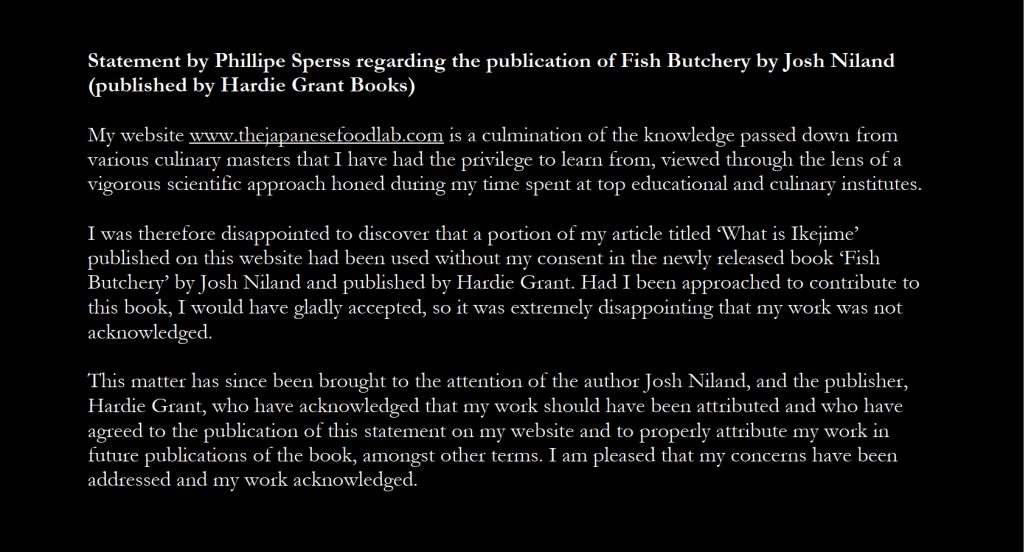 Statement by Phillipe Sperss regarding the publication of Fish Butchery by Josh Niland (published by Hardie Grant Books)
My website thejapanesefoodlab.com is a culmination of the knowledge passed down from various culinary masters that I have had the privilege to learn from, viewed through the lens of a vigorous scientific approach honed during my time spent at top educational and culinary institutes.
I was therefore disappointed to discover that a portion of my article titled 'What is Ikejime' published on this website had been used without my consent in the newly released book 'Fish Butchery' by Josh Niland and published by Hardie Grant. Had I been approached to contribute to this book, I would have gladly accepted, so it was extremely disappointing that my work was not acknowledged.
This matter has since been brought to the attention of the author Josh Niland, and the publisher, Hardie Grant, who have acknowledged that my work should have been attributed and who have agreed to the publication of this statement on my website and to properly attribute my work in future publications of the book, amongst other terms. I am pleased that my concerns have been addressed and my work acknowledged.