This article is part of a series on Edomae sushi that can be found here.
The special ingredient that differentiates traditional Edomae sushi restaurants from your typical sushi restaurant is not the fish, but actually the vinegar used to season the rice. Normal white rice vinegar is made by fermenting rice into alcohol, before further fermenting the alcohol into vinegar. This step doesn't take very long, with batches of vinegar being produced in a matter of months. The vinegar produces is gentle and mild with a subtle sweetness, the sort of vinegar you'd typically associate with sushi.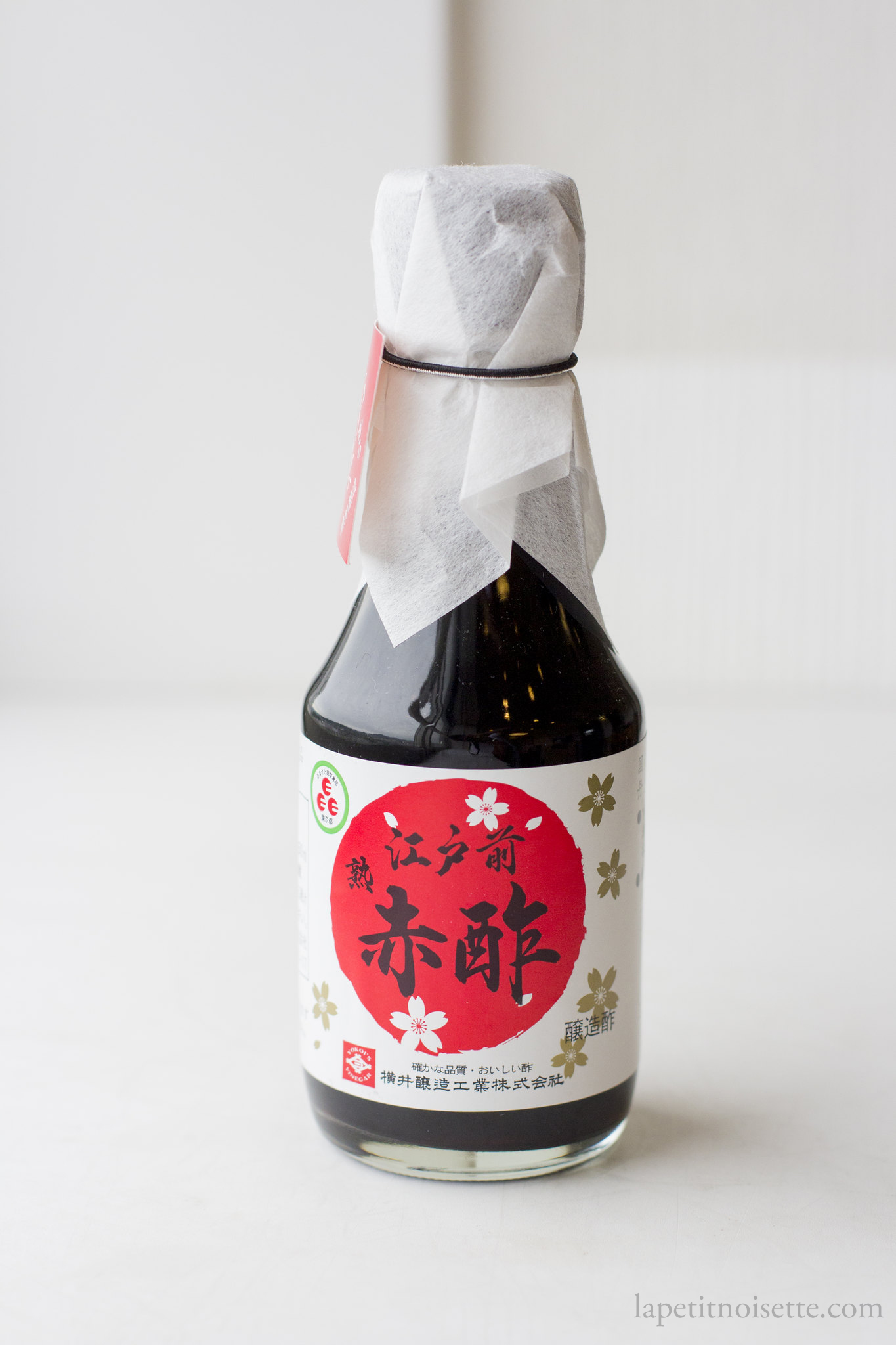 Edomae sushi restaurants however, use a kind of rice vinegar called Akasu (赤酢/Akazu). This vinegar has it's historical beginnings in the 1800s, where pure rice could not have been fermented due as it was luxurious an ingredient to be used. Instead, left over sake lees from the sake making process would be stored in wooden boxes and aged over time. Through years and years of the gentle Mallard reaction, these solids turned from white to black and developed a sweet and earthy aroma. The same ageing reaction here would be the same reaction that is undergone by aged wine, cheese and whiskeys. The variety of flavour compounds produced from the chemical breakdown inside the sake lees produced a variety of complex flavours. After ageing, the now black sake lees are mixed with water to form a mash known as Moromi (もろみ/醪). Similiar to balsamic vinegar, this mash is constantly turned and compressed. When fully matured, the mash is strained to form a reddish-black liquid that looks similar to soy sauce. This liquid is inoculated with a vinegar mother and then allowed to undergo acetic acid fermentation. The final product after acetic acid fermentation is a deep concentrated red vinegar, which has the depth of complexity just like a real aged DOP Balsamic vinegar, but with a much lighter and fluid viscosity. When used to make sushi rice, it gives the rice a golden hue.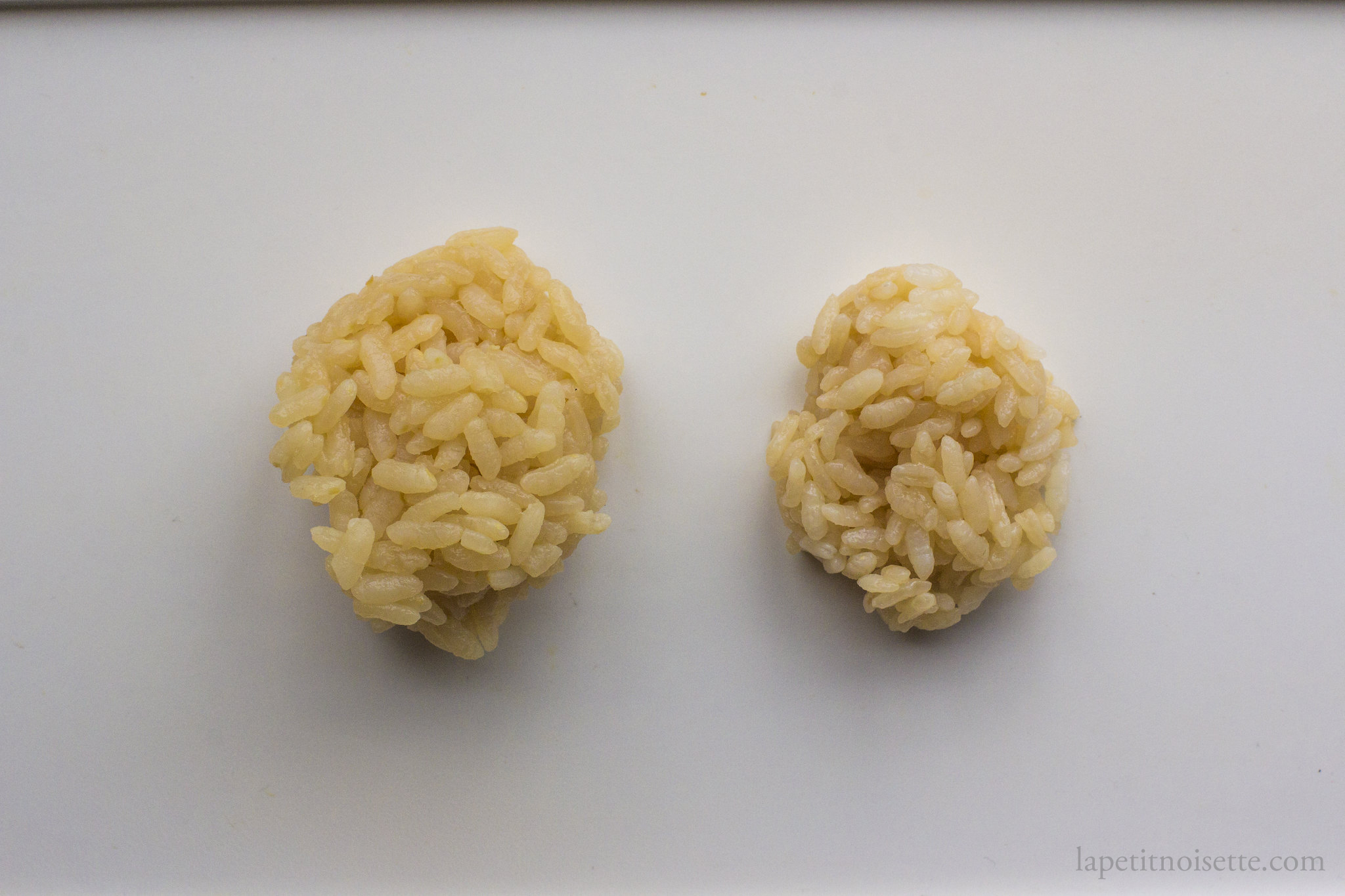 It is this vinegar that is used by sushi masters to blend their final sushi vinegar mix by adding salt, sugar and sometimes kombu. It is this mixture (known as awasezu/合わせ酢) that gives each sushi master's rice it's very own signature taste. From what I know, the only vinegar brewery that still makes this vinegar is Yokoi's Vinegar that is based in Tokyo. This is because the demand for this kind of vinegar is small, plus the entire production process takes a very long time due to the long ageing requirements, thus producing a slow return on investment. In fact, Yokoi's vinegar is only able to sustain it's vinegar production as it supplies 70 to 80% of all Michelin sushi restaurants with their vinegar, which is only a tiny production compared to their main business of selling all sorts of vinegars. Iio Jozo, a vinegar production brewery based in Miyazu (宮津), is famed for making the best white rice vinegars in the whole of Japan. Their products can frequently be found at high end Japanese supermarkets alongside their extremely amazing fruit vinegars. They produces the best vinegars in the whole of Japan in my opinion, with my all time favourite vinegar, honey and purple sweet potato, being produced by them. Previously, they also used to produce red rice vinegar, but have since stopped selling them in the Japanese market due to low demand. They do however, seem to sell their red vinegar to America under the name "Premium Akasu". If interested, a quick google search will show you where you can find some. Instead, they have decided to produce a pre-made blend of their red rice vinegar and salt, which I will elaborate on later.
Edomae Sushi Vinegar Mix (awasezu/合わせ酢) Ingredients
When it comes to the sushi vinegar mix, most sushi restaurants use a mixture of the following ingredients:
vinegars
salt
kombu
sugar
Let's look at each ingredient in turn. Traditional Edomae sushi restaurants refuse to use anything but unrefined sun-dried sea salt, as they believe it tastes better and has a more gentle flavour. This is true because unrefined sea salt doesn't only contain sodium chloride, but a whole range of other minerals in small amounts that provide a more complex flavour. In the restaurant, we usually filled a saucepan with sea salt and gently heated it over fire to remove more of the moisture content. This salt was then used to season everything from fish to rice. The next ingredient, Kombu, is important as it imparts all savoury notes into the vinegar mix, giving it what you would call umami. The Kombu used is typically Rishiri Kombu (利尻昆布) sourced from Hokkaido, which imparts the strongest flavour of the sea which pairs well with the fish.
The last ingredient, sugar, is the most controversial one. The most traditional of Edomae sushi chefs do not believe in adding sugar to their sushi mix, as they feel people add it in a way to compensate for other inferior ingredients. They believe that a true sushi enthusiast you prefer how sushi tasted as it originally tasted back in the Edo period, with no sugar added. This in a way has some truth to it. If using real red rice vinegar, or akasu, the sourness of the vinegar actually transforms into a gentle sweetness when salt is added, just like when you add a gentle pinch of salt to make a citrus fruit sweeter. In this way, sushi made from red rice vinegar does not need sugar added to it. In fact, a vinegared rice on the sweeter side would make the first few nigiris you eat taste nice, but then it would start to feel a little cloying. Rice with an edge of sourness on it however, will allow you to enjoy each piece of nigiri from start to finish without feeling full or heavy.
Delving Deeper into Yokoi's Vinegars and Japanese Exclusivity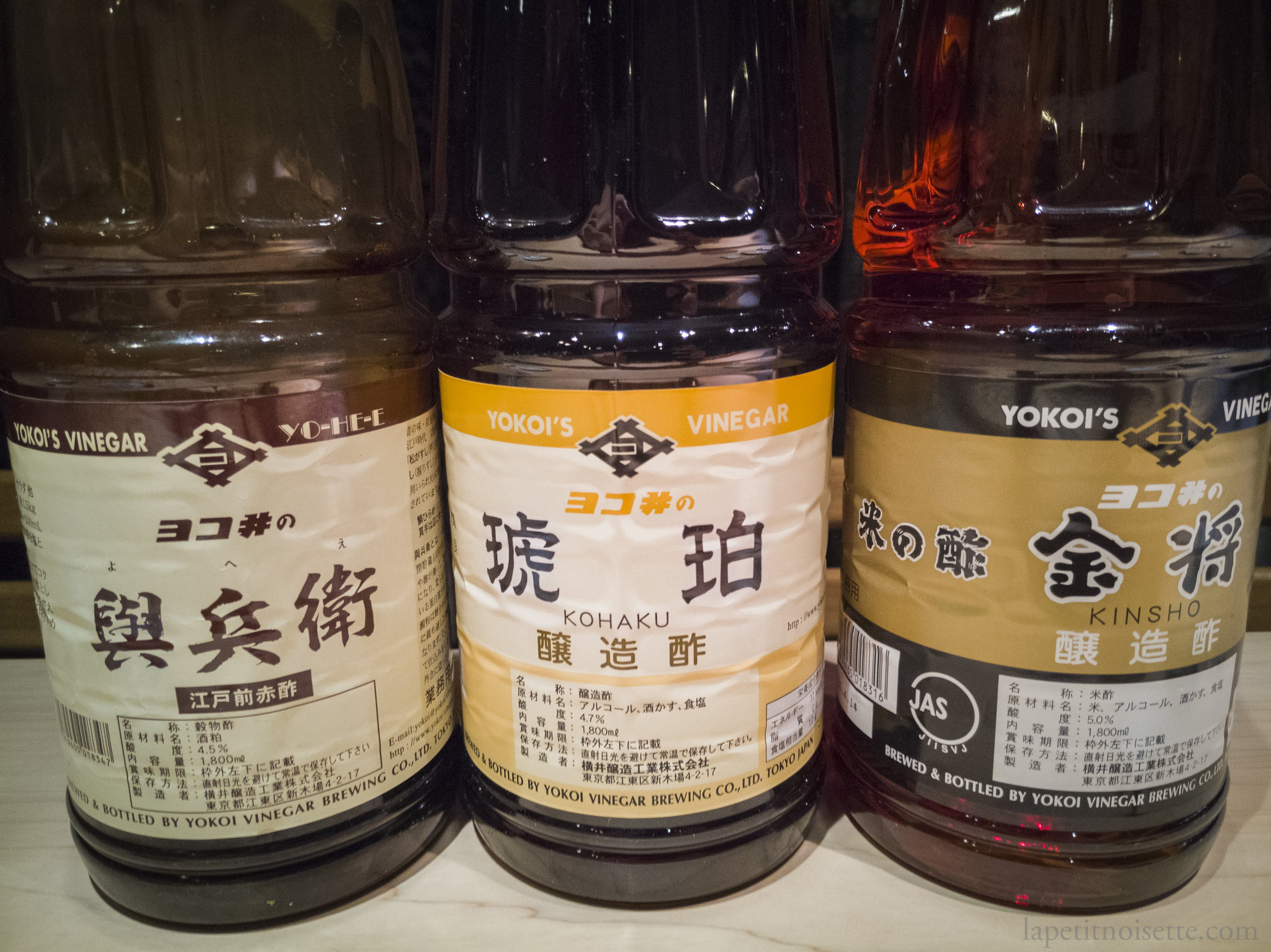 From here, we delve into Japan's traditional system of exclusivity. Yokoi's vinegar actually produces three different grades of red rice vinegar. These grades are:
與兵衛 赤酢

(

よへえ

/Yohee Akazu)- 4.5% Acetic Acid content

琥珀 赤酢(こはく

/Kohaku Akazu)- 4.7% Acetic Acid content

金将 米の酢

(

きんしょ

/Kinsho)- 5% Acetic Acid content
Yohee Akazu contains only sake lees, Kohaku Akazu contains alcohol, sake residuals and salt, whilst Kinsho contains rice, alcohol, sake residuals and salt. It is these three vinegars that make up the arsenal of the restaurant I worked at. As you can see Yohee contains only sake lees, and is thus the most concentrated. Kohaku and Kinsho are actually just more diluted versions of Yohee, blended with other substances. We used Kohaku or Kinsho for marinating Saba and Kohada and used a mixture of all three for making our sushi vinegar mix. The sushi vinegar mix in each restaurant is a secret. Just like the sauce for grilled eel. This secret is passed down from master to apprentice when training is completed, which typically takes 10 years. In this scenario however, there is an additional layer of exclusivity.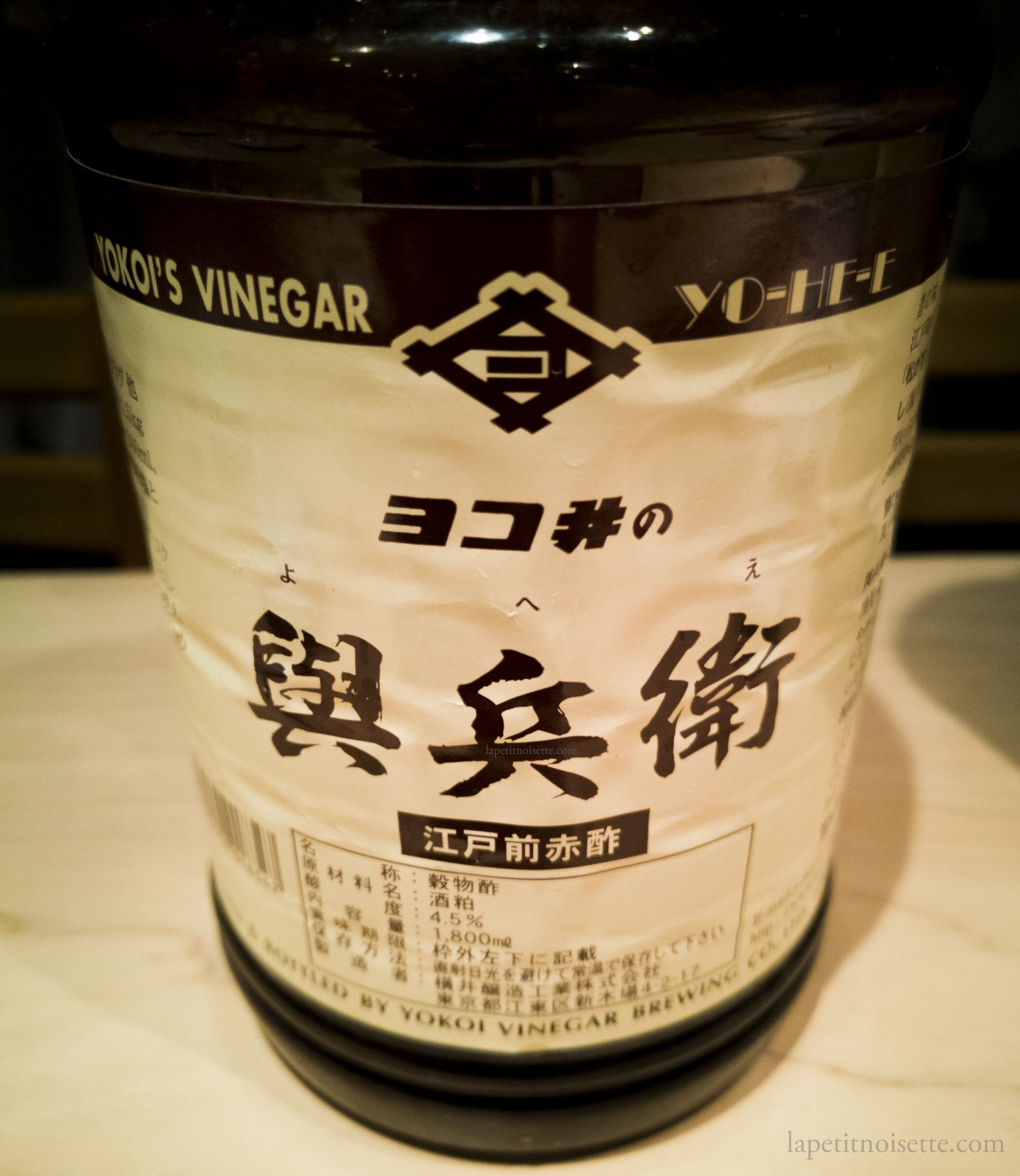 The most important vinegar here is Yohee Akazu, as it takes more than 20 years of ageing to make it. Because of this, production is very low and most people are unable to buy it. It fact, you are only able to buy it by introduction, that is if your master introduces you to the people at Yokoi's vinegar. Therefore, not many people are able to obtain it. Do you need it to get one Michelin star? The answer is no. There is not enough of the Yohee Akazu to supply all of the Michelin starred sushi restaurants out there. Most of them rely on solely Kohaku and Kinsho. How about three Michelin stars? The answer then is maybe. The famous Sukiyabashi Jiro does not use Yokoi's Yohee Akazu, but I cannot think of any other three Michelin starred sushi restaurant that does not. It's kind of like an exclusive club, where you are able to join by paying your dues in time spent apprenticing under a master.
Interestingly enough, Yokoi's actually started selling their Yohee Akazu vinegar in Tokyo to everyday consumers. A move that I found extremely interesting. Why would they do that? It is only sold at the most high end of basement supermarkets in Tokyo however and only in small quantities. Maybe the quantities sold to the public is too small to matter. Or maybe they have managed to increase their production of Akazu to now be able to sell it to the public. As of now however, it is being sold as a limited edition item.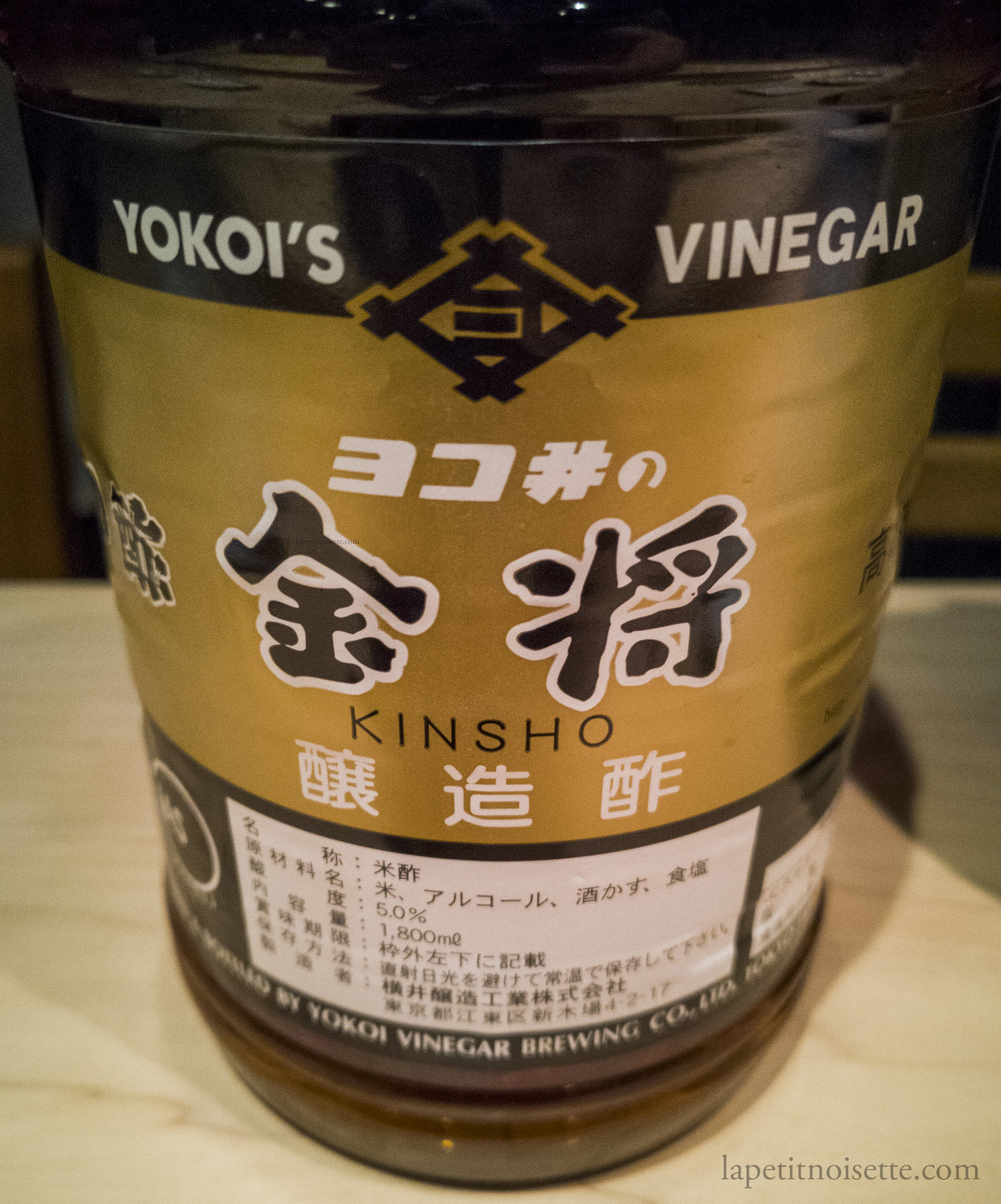 Approximate Edomae Sushi Vinegar Mix (awasezu/合わせ酢) Recipe
Whilst working at the restaurant, I was not thought the secret recipe for the vinegar mix. I was however, allowed to taste it over and over again. And I tried my very best to recreate it at home. After trying many times with substitute. I manage to find a vinegar mix which the master himself found to be extremely accurate, even though it didn't contain red rice vinegar. Therefore it is possible to make this vinegar at home yourself. The most important flavour component in red rice vinegar is the fact that it had been aged for 20 years. When recreating the recipe, I knew I would not be able to obtain the red rice vinegar and thus sought a substitute that would have the same complexity of flavours though ageing as well. This immediately led me to normal IGP balsamic vinegar, which also has the aged complexity, without it being too sweet and concentrated like DOP balsamic vinegar. The recipe for approximated sushi vinegar made at home, that won our restaurant three Michelin stars, is as such:
8g Kombu
15g of sea salt* (Please read the update at the end of the article!)
5g of IGP Balsamic vinegar
5g of soy sauce (Preferably 3 years barrel aged)
100g of white rice vinegar
After mixing all the ingredients together. Bring up to a boil in a sauce pan and discard the Kombu. Reduce to 75g. The entire 75g mixture is enough for 2 cups of sushi rice. (In japanese, one cup of rice is 一合).
Instructions on how to cook sushi rice can be found here.
Instructions on how to mix the vinegar together with the rice can be found here.
As for the specific ingredients used. Sea salt should be used if available. The salt is first placed in a dry pan and gently heated for 5 minutes under low heat to further dehydrate. The soy sauce you use should be good quality, and the higher the quality of the white rice vinegar, the higher the quality of the overall mix. I used Iio Jozo's white rice vinegar (mentioned above) when making this recipe, but that would be hard to find outside Japan. The kombu used was Rishiri kombu.
A warning- This sushi vinegar mix is unlike that which you would have tasted anywhere else. It is quite strong so be very careful when adding it to rice if you are making the recipe yourself.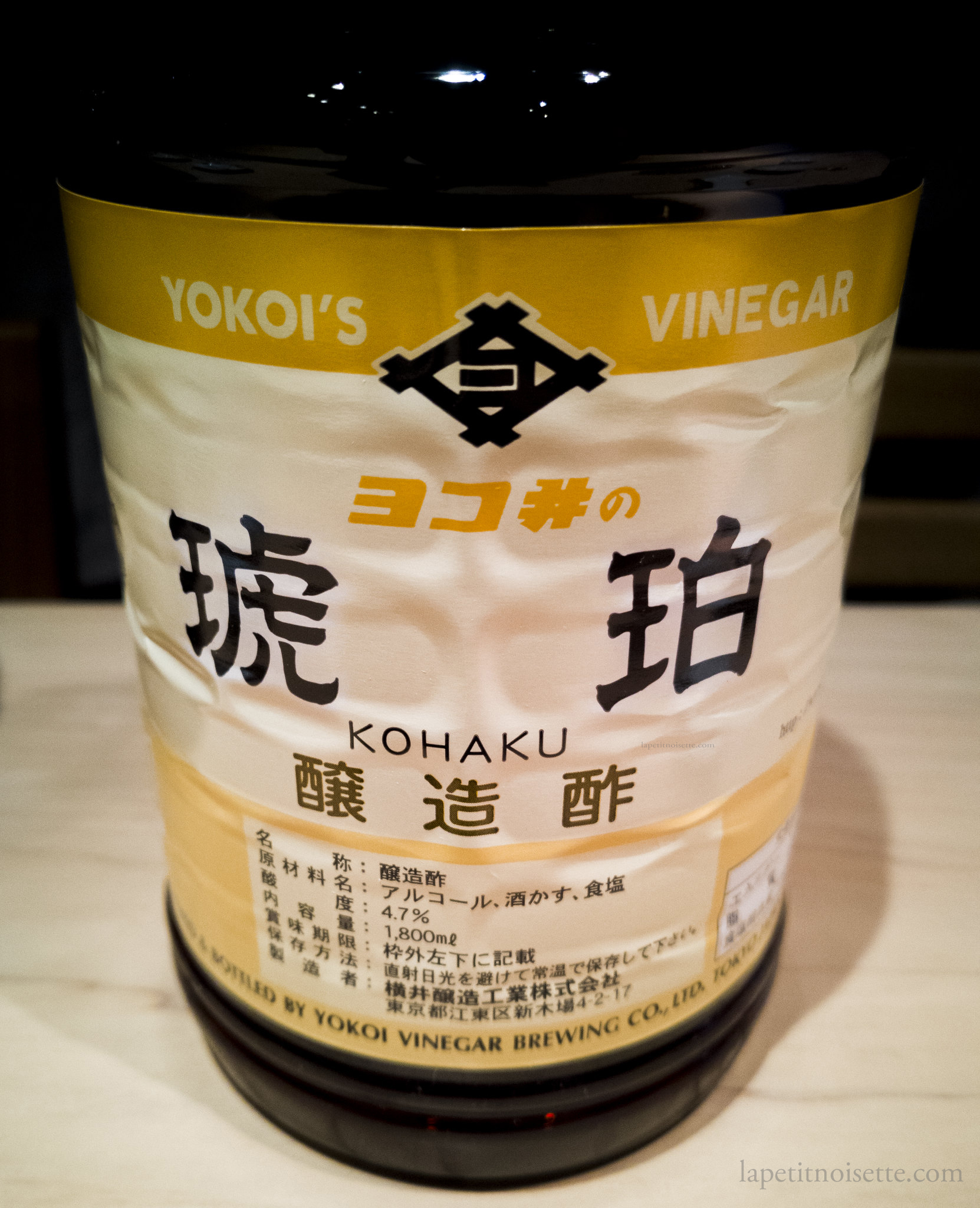 Real Edomae Sushi Vinegar Mix (awasezu/合わせ酢) Recipe
After completing the experiment above, I then went on to crack the recipe for the real Edomae sushi vinegar mix that we use. The recipe is as below. Be aware again that the ingredients in this recipe are almost impossible to source, and was only possible as Yokoi's was selling their Yohee Akazu commercially at that time.
18g unrefined sun dried sea salt* (Please read the update at the end of the article!)
40g of Yokoi's Yohee akazu (與兵衛 赤酢)
60g of Iio jozo's Premium Junmai Rice Vinegar
8g of Rishiri Kombu
5g of Soy Sauce (Preferably 3 years barrel aged)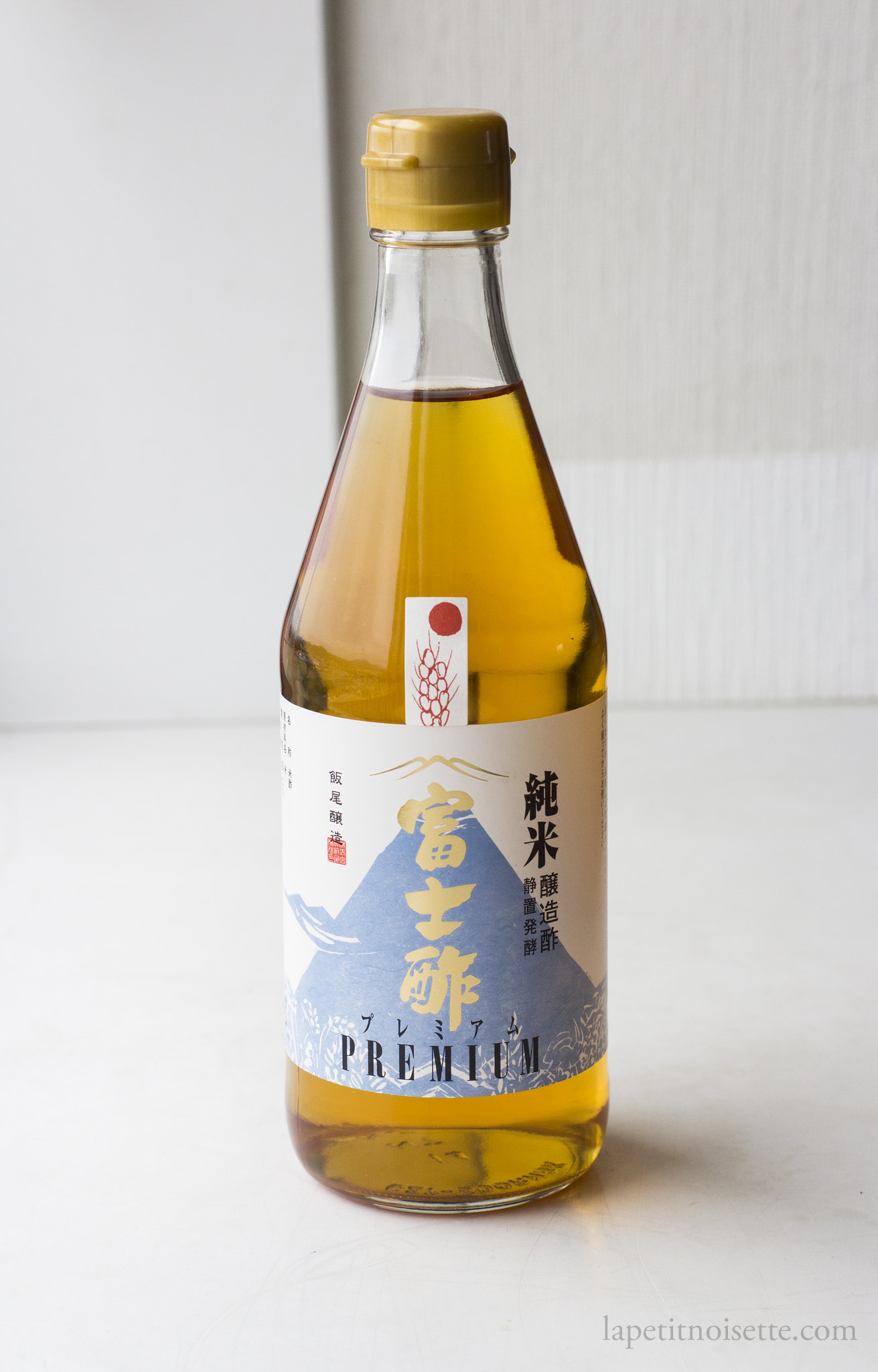 After mixing all the ingredients together. Bring up to a boil in a sauce pan and discard the Kombu. Reduce to 75g. The entire 75g mixture is enough for 2 cups of sushi rice. Again, the salt is first placed in a dry pan and gently heated for 5 minutes under low heat to further dehydrate. This mixture is very delicate and is almost completely saturated with salt. As such, adding a little bit more salt will cause the salt the crystallise out. If so, dilute back with a little water.
Mentioned before, Iio Jozo no longer sells his Akazu directly in Japan, but does a premixed sushi vinegar that contains his Akazu. This sushi vinegar mix is extremely accurate but a little sweeter with no soy sauce added to it. If you can get hold of some of it, do give it a try, as it is very close to the real sushi you would have had back in the Edomae Period.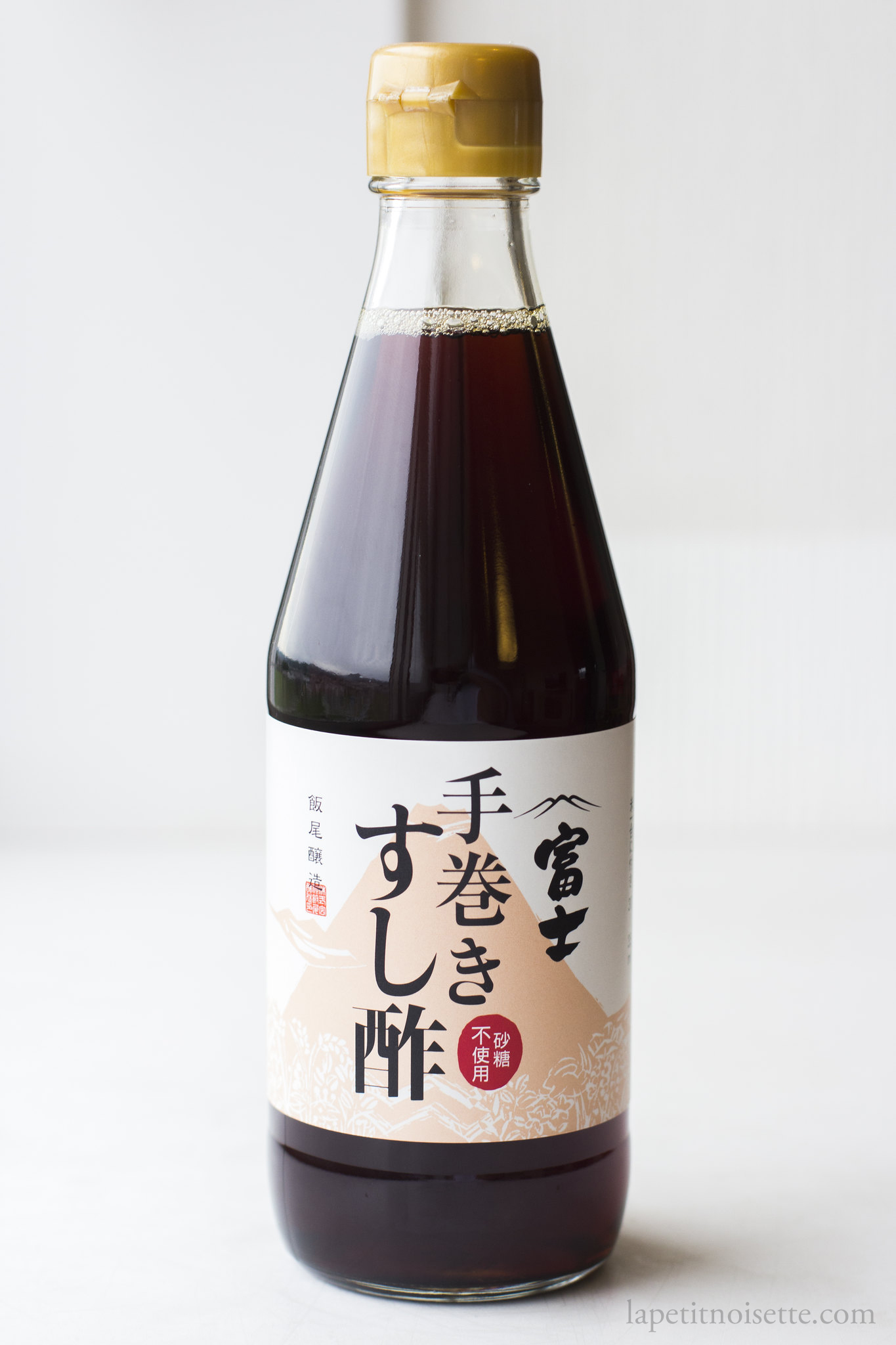 *Update regarding the salt:
After taking questions and suggestions from quite a few people who have tried out this recipe, I decided realised a very important factor was missing from the recipe regarding the salt. Different salts have different levels of saltiness when added to a recipe due to the different percentages of sodium chloride in the salt. This is why special expensive salts taste different, because they contain other minerals that give the salts a more complex but less salty taste. When it came to this recipe, just using cheap sea salt or fine sea salt resulted in the recipe being overly salty and quite unpalatable. So I think it's worth mentioning that the salt you choose matters. I would recommended Maldon Sea Salt for this recipe. The salt I used for this recipe was the one pictured below.
The balance of the sushi vinegar is also designed to pair with fish that has been salted before hand, not raw fish without salt, so you might want to take that into account as well. I realised that we always salted our fish in the restaurant with the exception of tuna (Maguro), so the vinegar mix is pretty salty but it evens out when paired with seasoned fish, examples can be found at any of the fish preparation recipe on this site.
The recipes above are for 2 cups of raw sushi rice.
Special shoutout to Peter Spijker 😉