It is very disheartening for me to say that this article has been plagiarised by byfood.com. You can read more about it here.
Okuniya Manbei Unagi (Ookuniyamambei/大國屋鰻兵衛)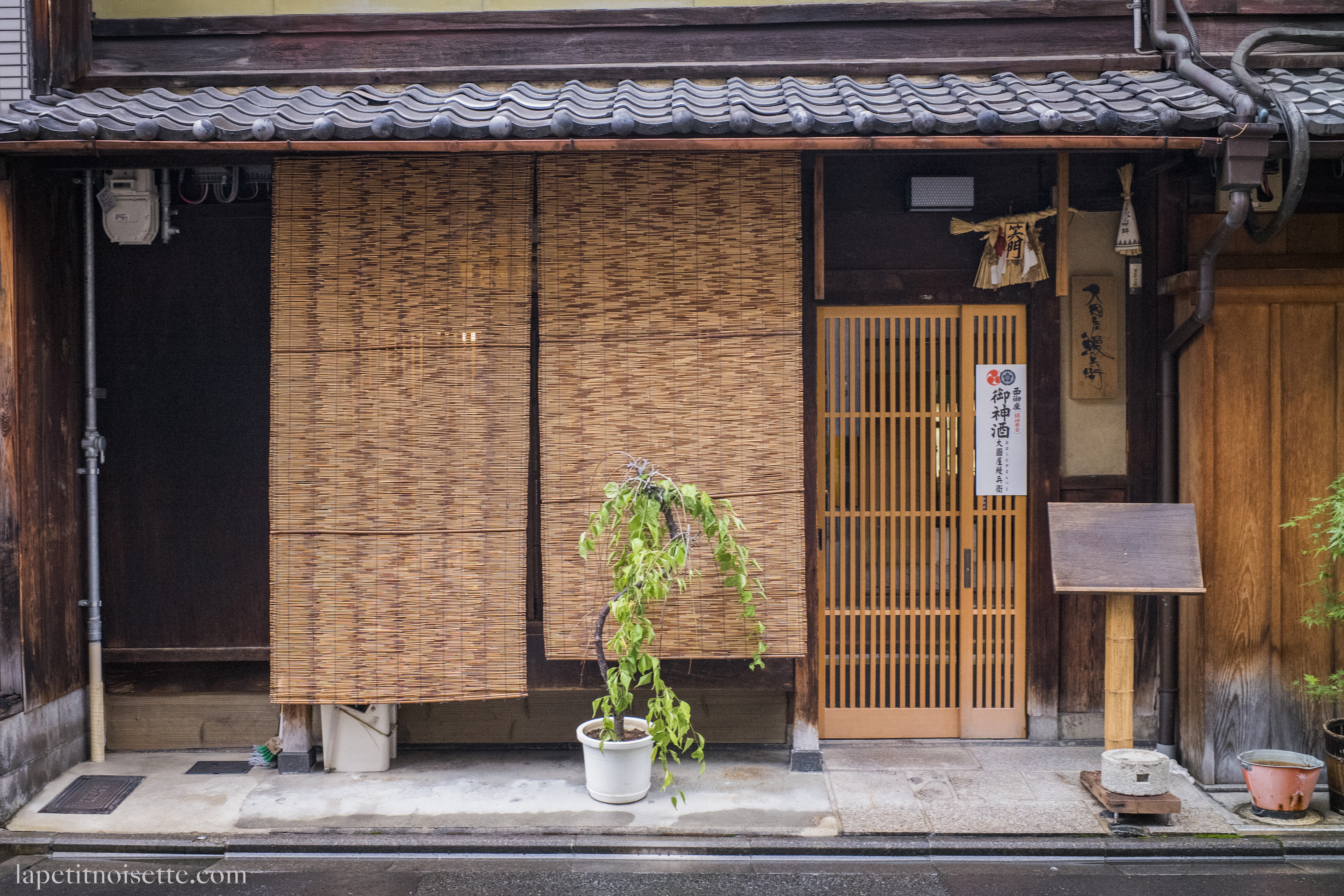 After having worked most his life at his family's whole-sale unagi business, Kunio Yamaoka decided on his business' 70th anniversary to share his expertises on eel and opened Okuniya, specializing in Kansai-style unagi served in a claypot with rice.
Situated down a side path just off the Nishiki Market, the frontage of the restaurant is discrete. With only 12 seats, the restaurant does not have a menu, and reservations are a must, with the number of people allowed to eat there depending on the day's eel supply.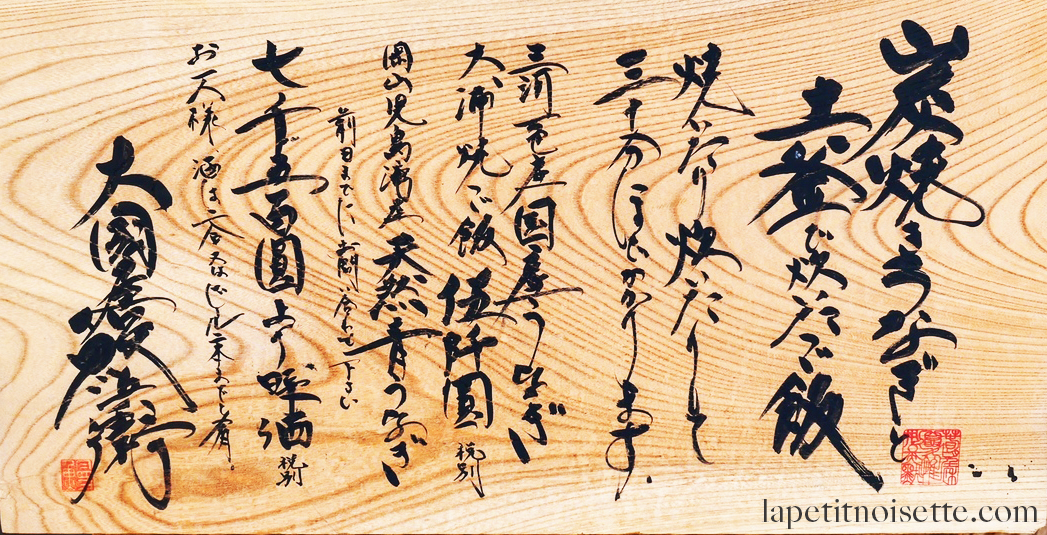 Not being able to speak Japanese very well, we happened to call to make a reservation on Sunday, which was supposed to their day of rest. Kunio Yamaoka's wife answered the phone, and was kind enough to tell us that they were willing to open just for us at dinner as there were 3 of us. This act of generosity was incredible because not only do they not open on Sundays, they typically only serve customers for lunch. Furthermore, we were extremely grateful for her patiences in repeating what she said slowly and several times, just enough for us to understand her Japanese.
When we arrived at the restaurant at 6.30, we were greeted by her, who made a big fuss about how we had been waiting in the rain. Once seated, we were told that there was no menu to choose from, but just a wooden plaque describing the meal. The meal would also take 30 minutes to cook as the eel was killed and filleted only when we arrived, whilst the rice would also be cooked from scratch.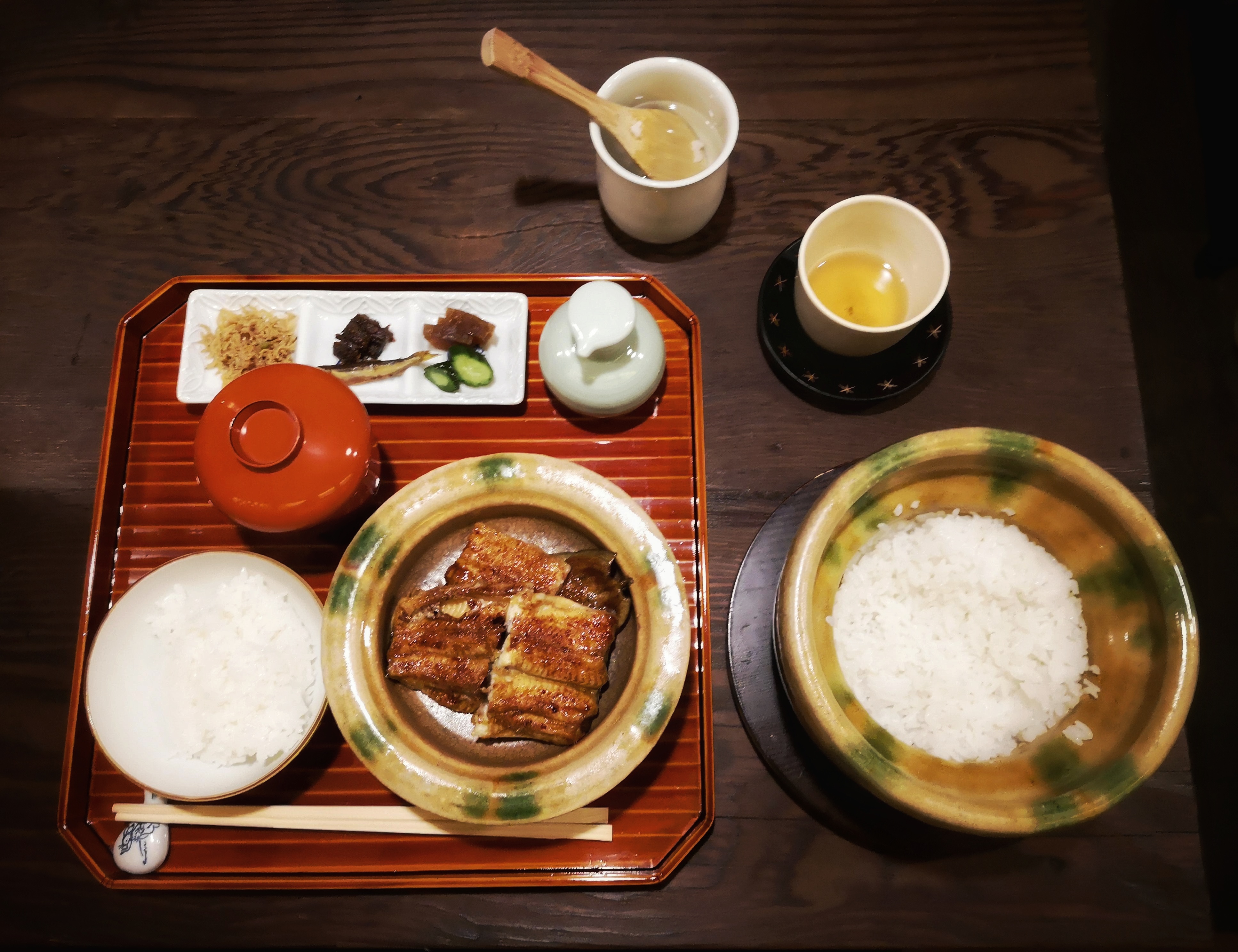 The eel here is filleted Kansai-style, with the belly of the eel being slit open. Comparatively, eel is usually filleted Kanto-style, where the eel is slit open from the back. Kansai-style eel is also not steamed in a steamer to remove the excess fat. Instead, this restaurant specialized in cooking the eel a second time by placing the eel in a second compartment under the lid of the claypot, cooking it with the rice.
The resulting eel had skin with the most ethereal texture, accompanied by a nitsume sauce that had just the right balance of sweetness and saltiness. The meal was also presented with various side pickles, including pickled eel livers, baby ayu sweetfish (鮎) and melon slices preserved in sake lees (瓜の粕漬け). Each one helping to accentuate the taste of the eel.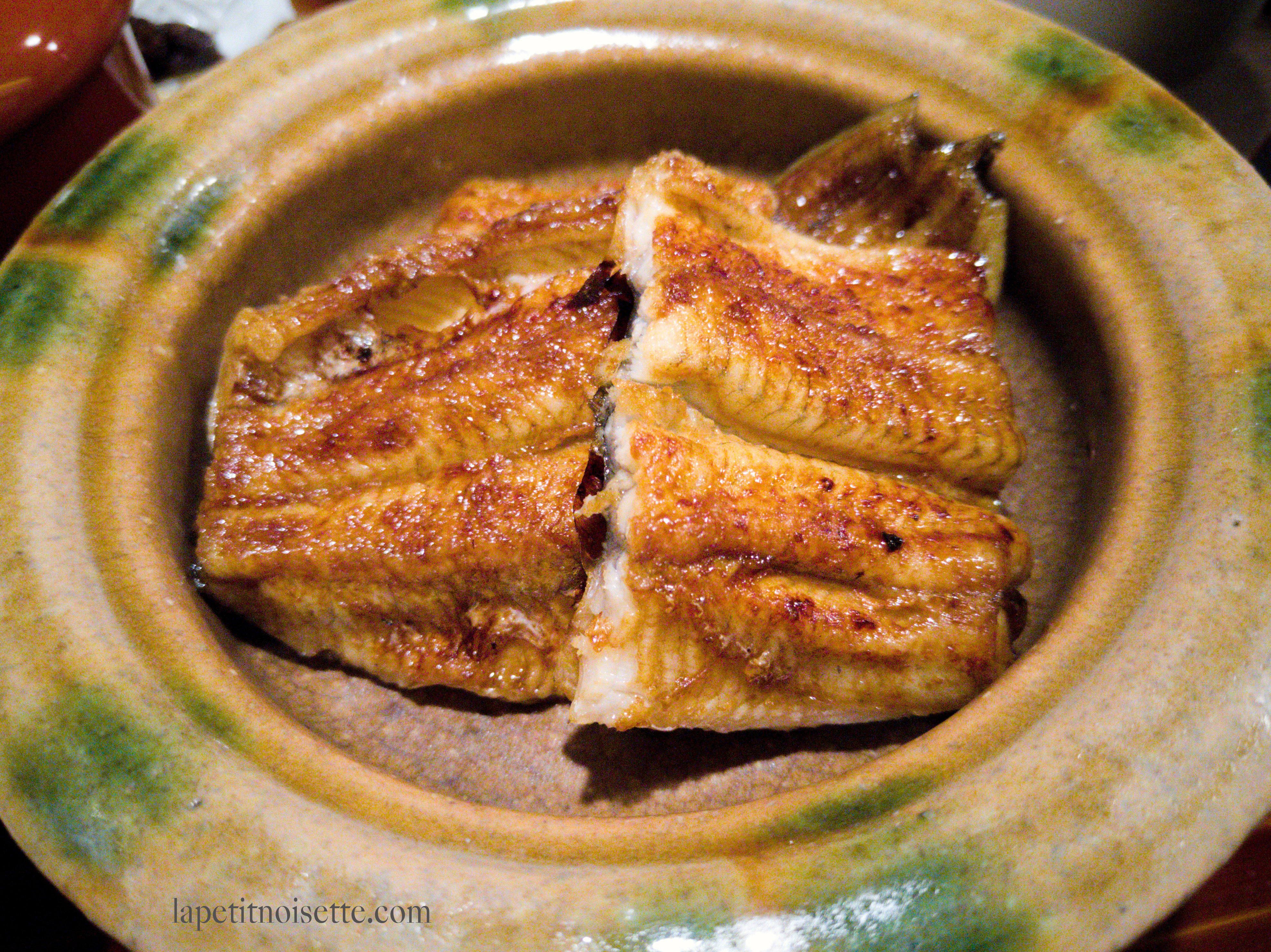 Once we had finished most of our rice, the claypots were taken away, and the remaining Okoge (お焦げ) or crisp rice at the bottom of the pot, was scrapped into a different bowl and served Ochazuke (お茶漬け), with hot tea poured over the top. The Ochazuke was also topped with Bubu-eel- a three generation recipe passed down in Kunio Yamaoka's family which consist of a small piece of charcoal grilled eel that had been simmered in sauce and sansho pepper until completely cooked.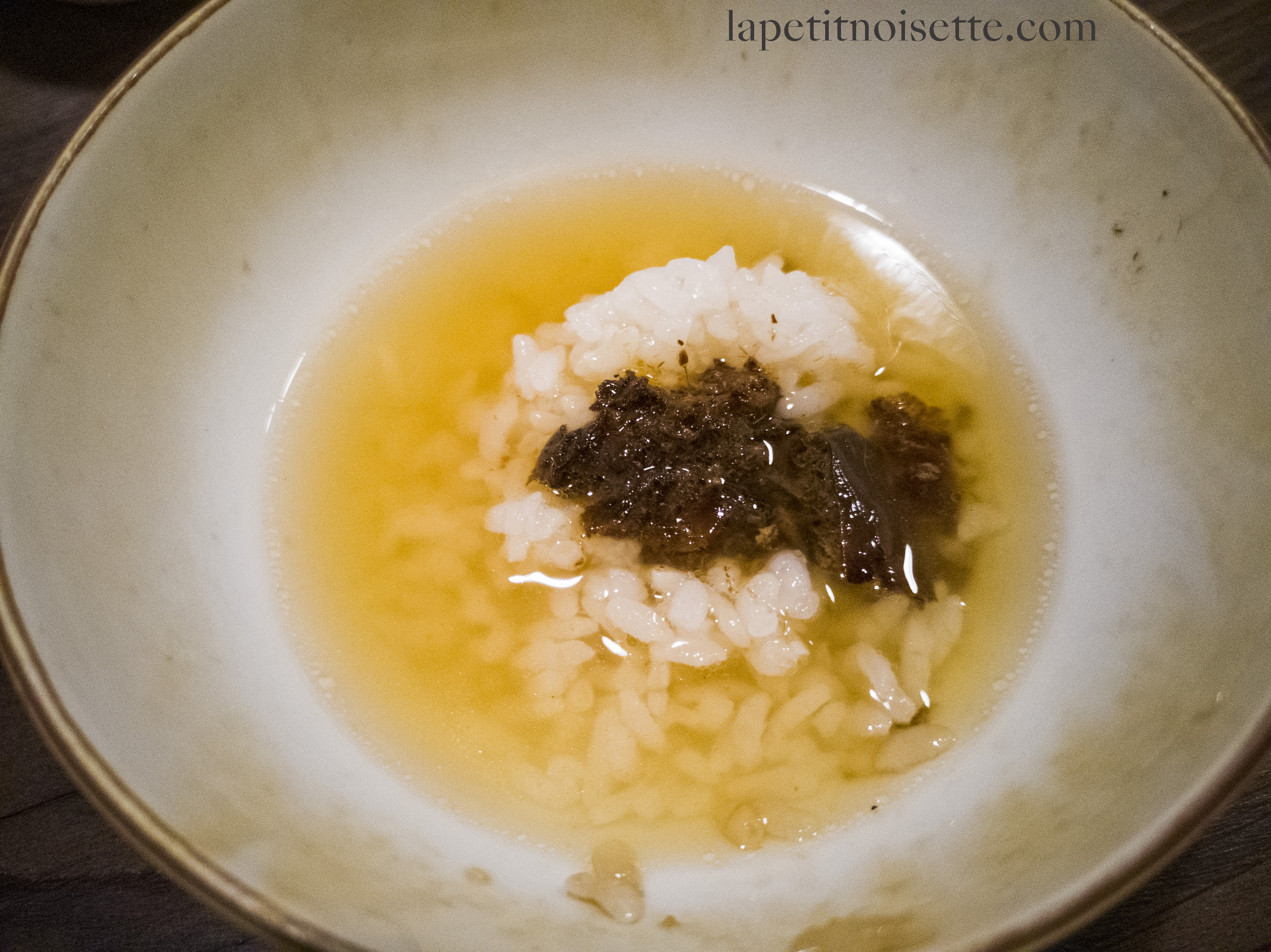 There are many things that make a restaurant experience truly special, and rarely is it just the food. Food to me has always been about conveying a story and in this case, the unrivaled hospitality we were shown, combined with the heart-warming home cooked food, was enough to make all of us agree that this was the best meal we had ever had. The experience felt like being invited back to someone's home, even though we had never met before, which maybe goes to show how authentic the emotions conveyed to us though this meal was.
Okuniya Manbei Unagi can be found at, 534 Kikuyacho, Nakagyo-ku, Kyoto (京都市中京区菊屋町534), and their phone number is just a google search away. No english is spoken at this restaurant and reservations are recommended. Their website is: https://manbei.bubu-unagi.com/
It is sometimes the attention to little details which makes people realize how much effort goes into running a restaurant. As I've mentioned in my article on Kumoi Kiln Donabe Claypots (雲井窯) by Nakagawa Ippento (中川一辺陶先生), Nakagawa Ippento's claypots are used by almost all Michelin starred establishments in Japan to cook rice, with a single claypot costing upwards of 40 000¥. After a bit of digging around, I learnt that the claypots that are used to cook and serve rice and eels to the customers at this restaurant are made my Nakagawa Ippento's younger brother, Nakagawa Isshiro (中川一志郎先生) or Isshiro Kiln (一志郎窯). Whilst Nakagawa Isshiro does not have the same reach and fame as his older brother, his pots are nevertheless just as high quality, using the same secret family technique that is used to fully glaze the inside and outside of the claypots.
In most restaurants, handing each customer a 40 000¥+ claypot to eat out of would be too much of a risk as they might accidentally scratch, or worse break the pot. At Okuniya however, the pots are served to the customers without so much as a mention about their maker or provenance.
The claypots used at Okuniya are known are the three colored feather pot (三彩羽釜) and can be ordered through Nakagawa Isshiro's website can be found here.