Sometimes I wonder why I write these articles given not only how niche the content is, but also how it's close to impossible to obtain the stuff I write about in these posts. This is especially true for this article that covers an even more niche and rare claypot rice cooker- Isshiro Kiln (一志郎窯) by Nakagawa Isshiro (中川一志郎). Also known as Ichishiro Kiln, Nakagawa Isshiro's claim to fame is the revival of Koto-yaki pottery and porcelain. To provide you with some background, Koto-yaki pottery is a style of pottery that prevailed in Hikone (彦根市) towards the end of the Edo period, which is located in Shiga prefecture (滋賀県), just on the eastern shore of Lake Biwa (琵琶湖), which is Japan's largest freshwater lake that is over 4 million years old. The patronage of koto-wares gradually declined after the Meiji restoration and ceased in 1895 before being revived by Nakagawa Isshiro. Today, his workshop is still located in Hikone and is open to visitors who usually pair it with a visit to Hikone castle.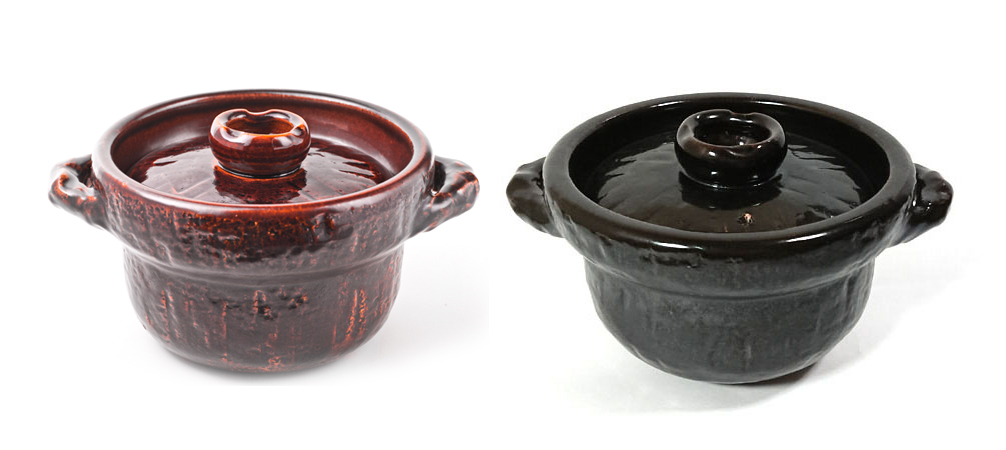 What makes Isshiro Kiln's pottery special however, is that Nakagawa Isshiro is the brother of Nakagawa Ippento of Kumoi Kiln (雲井窯)! This is noteworthy because whilst Nakagawa Ippento's claypots are highly sought after around Japan and used in most high end ryotei and sushi restaurants to cook rice and other various dishes, Nakagawa Isshiro's life is much more down to earth, with only a small workshop in Hikone, that even holds pottery classes that you can book for on the 1st and 3rd of every Sunday of the month. In fact, Nakagawa Isshiro's main business focus is that of koto-yaki porcelain and not the creation of donabes like his brother. He creates stunning white porcelain with vibrant blue or red underglaze for a range of everyday uses such as tea cups, plates, flower vases and bowls. 
As it turns out however, the Nakagawa brothers seemed to have shared their secret technique for glazing clay pots with each other, as Nakagawa Isshiro makes a tiny selection of donabe claypot rice cookers, using the same full glazing technique that brought his brother his fame and fortune. The full glazing technique is elaborated more on my original Kumoi Kiln post here but in short most claypots like Nagatani's Kamado-san used on fire are only half-glazed and thus you need to start cooking with a low flame and immediately exposing the pot to a high flame would cause it to crack. However with the full glazing technique, you can immediately start off with a powerful flame. The way the two brothers use their clay is distinctively different however. At Kumoi Kiln, the clay is harvested and stored in a shed with extremely high humidity and allowed to age before it is turned into claypots. The humidity is so high in fact, that you can literally see the water dripping from the ceiling as it condenses. Comparatively, in an interview at Isshiro Kiln, Nakagawa Isshiro talked about how 20 years ago he brought the actual mountain from which he harvested his clay, so that he would never run out of clay. That's right, he brought an entire mountain just for it's clay! 
He then mixes together this clay with 7 other types of clay, including that from Mie Prefecture and Aichi Prefecture, in order to increase the clay's fire resistance and "hardness?" (this might be a translation error). He also claims that the ratio of the different clays mixed together ultimately affects the taste of food cooked in his pots. Nakagawa Isshiro's rice cooking pots are slightly different than compared to his brother's, and after many years of research, he decided that the optimal clay thickness for cooking rice is 1.4cm which is thinner compared to Kumoi Kiln. The design is also different, with the claypots having handles that protrude a bit more, enough for your hands to actually pick it up. This was definitely a plus point for me, as it always felt like I was about to slip and drop Kumoi Kiln's rice pot at the restaurant I worked at because the handles, if you can even call them that, were sort of fused into the pot, and it felt like I was gripping the pot rather than actually holding it. The lid is also different, with a more knob like handle that is easier to grip on rather than two straight lines of clay.
Whilst he definitely flies under the radar much more compared to his brother who dominates the high end restaurant scene around the whole of Japan and Tokyo, Isshiro's Kiln's claypots have managed to carve out their own little niche in certain high end restaurant, particularly those in the Kansai region, especially in Kyoto. His rice cooker pots come in the classic black and and the classic earthen colour known as Ameyu (アメ釉) that both brothers do. Those colours aside, Nakagawa Isshiro's signature special glaze is his Sansai (三彩) glaze, which is a glazing style that originated during the Tang Dynasty in China that employees the three colours of brown, green and a creamy off-white. Just like his brother, his pots can be authenticated using the signature imprinted on the underside of the lid off the pot.
So with all this being said and done, where do you actually find one of Isshiro Kiln's pots? Well the answer is that it's almost impossible unless you live in Japan. At the very least for his brother's Kumoi Kiln pots, you could get the basic colours at high end Japanese departmental stores like Mitsukoshi and Takashimaya because his brother is extremely famous. But for Isshiro himself, who's more famous for porcelain than pottery, you typically have to place an order through his website here. Just like his brother again, if you place an order through a website, then you're going to have to wait god knows how long before it's made, and then you need a place it can be delivered to, and they don't deliver outside Japan. If you go to his website, he lists a few online stores where you can get his claypots from but they all online deliver within Japan as well.
There are actually stores in Taiwan interestingly enough that sell his pots, if you google "一志郎窯", but the online stores in Taiwan and Japan have a catch which may or may not be a good thing depending on how you look at it. Back in 2018, Isshiro Kiln started a crowdfunding project on Makuake. For those who aren't familiar with it, Makuake is the Japanese version of GoFundMe or Kickstarter where you pay money to support a project, where the item or cause being supported will be delivered in the future if the funding goal is reached. This Makuake project was to develop a rice cooking claypot that would be more affordable and lighter in weight, thus suitable for home cooks to use. This line of claypots were known as "味事飯鍋" and come in a variety of bright and in my opinion somewhat tacky colours. It is these versions of Isshiro Kiln's pots that are typically available to be brought online. I don't mean to be disparaging against home cooks and I am especially fond of the enthusiastic home cooking community that tries to replicate restaurant level techniques at home. However, I don't really like it when companies produce a home-version of a particular product because it sometimes feels as though they're taking advantage of their brand name in order to sell an inferior product for a very high price. Not to say that Isshiro Kiln's home pots aren't high quality as they're still made by his very own hands, but they just don't have the same aesthetic appeal of the restaurant versions.
I actually understand why he would make a home-version of his famous rice pot, After graduating from the Kyoto Ceramics College (京都陶芸技術専門学校) and trained at Enshu Nana Kiln (遠州七窯), Nakagawa Isshiro didn't immediately become successful. During his Makuake crowdfunding project, he talks about how his rice cooker didn't sell well and he was rejected as he went from departmental store to departmental store in an attempt to have them stock his wares. It was only in 1999 that a Japanese magazine called "Croissant" (クロワッサン), who's target audience were middle-aged women, picked up story on his claypot rice cookers did he suddenly strike fame. So in a way, making a household friendly version of his rice cooker is a way of giving back to the home cooking community.
In a long winded conclusion, your best bets for obtaining one of Isshiro Kiln's pots would be to somehow order it online and have it delivered to a friend who lives in Japan, or be lucky enough for an online store to stock it, which does happen from time to time. Until then, Nakagawa Isshiro's dream is to be able to make claypot rice cooker that he can claim to be the piece of the new era* (令和の湖東焼) and we wish him all the best in his endeavours.
Of course, since he is Nakagawa Ippento of Kumoi Kiln (雲井窯)'s brother, this means that the instructions for cooking rice in one of his donabe rice cookers is the same as his brother's which can be found here.
My favourite restaurant that uses his claypots are Kyoto's Kishin Kitchen, which serves a traditional Japanese breakfast and Manbei Unagi, which is by far the best unagi i've tried in Japan.

*The Japanese era names follow the ascension of a new emperor, with the current era being that of Reiwa (令和) as the new Emperor Naruhito ascended the throne in 2019.